15.6″ Black Classic Slim Briefcase Foam Padded  Laptop Bag
$24.98
Description
15.6″ Black Classic Slim Briefcase Foam Padded
 Laptop Bag
The laptop bag is a Classic slim briefcase is a thin, lightweight case that can hold all of your essentials while you're on the go.
Smartly structured slots in the wide front pocket contain your smartphone, pencils, business cards, adapters, wires, and other necessities. The case is made of durable polyester and features metal, contoured zipper pulls, as well as comfy padded handles and a shoulder strap.
The big back slide pocket is ideal for keeping files and documents, and the trolley strap supplied makes it simple to stack this bag onto rolling luggage.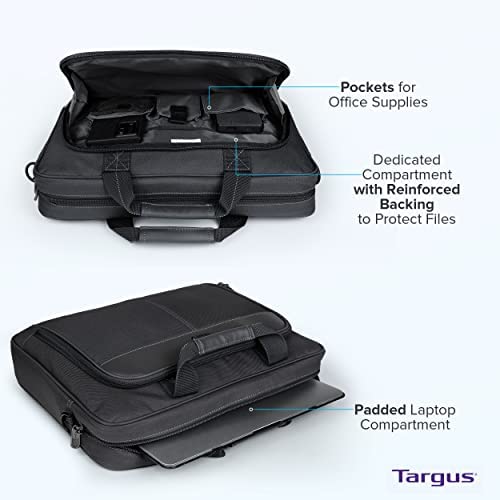 A computer bag that is both slim and lightweight, making it ideal for professionals on the road. This computer bag is meant to secure your device while you're on the go, with handy compartments, a shoulder strap, and high-quality construction.

Spacious and Ergonomic Laptop Bag
Larger slots for files and a laptop are located in the laptop bags, while smaller slots are located for notepads, power banks, and other small items. Grab handle, shoulder strap, and rear trolley strap are a few different carry methods.
FOAM PADDED COMPARTMENT 
The foam padded laptop compartment is of our luxury computer cases for laptops. It will safeguard your slim computing devices from shocks, bumps, drops, scratches, dust, and much more! The overall density is ideal for optimal protection.

Laptop Bag With Versatile Usage
Our laptop carrying case can be used for anything. Carry files, business cards, keys, storage drives, a power bank, laptops, tablets, and other on-the-go necessities. This briefcase is ideal for commuting to work or long-distance trips.