Black Stripe Boho Duvet Cover Set
$54.99
Size : Queen, King, Twin
Material : Cotton
Color :  White, Dark Grey, Grey
Pattern : Striped
Description
Black Stripe Boho Duvet Cover Set Queen – 3pcs Ultra Soft
Breathable Aztec Cotton Comforter Cover with Zipper Ties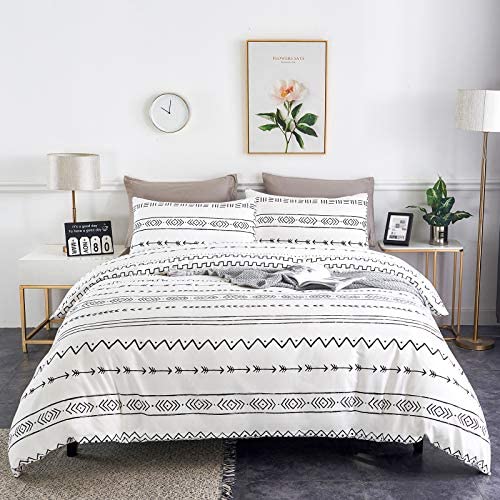 Ultra Soft Cotton That gives a Better Sleep
The 100% cotton black stripe queen duvet cover is machine washable. The duvet cover have superior moisture absorption, air permeability, and heat preservation when compared to other materials.
This black striped duvet cover is made of feathers which make it to be more lighter in weight than others by comparison. The touch feels smooth and comforting. It will substantially improve the quality of your sleep, assuring you wake up feeling refreshed.
The lovely cover is designed to create a traditional and  fashionable style bedroom. This basic white boho duvet cover is certainly  popular with all and makes an ideal present for any occasions or seasons.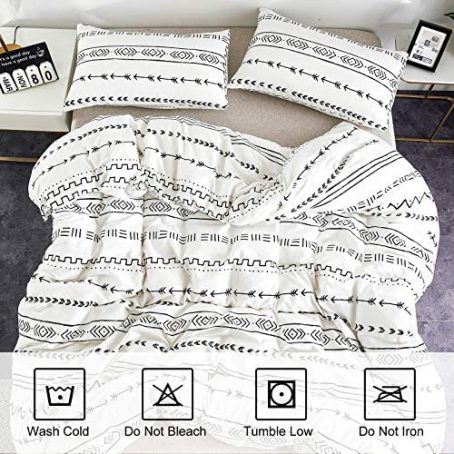 Perfect Design
The blanket core inside the cotton queen duvet cover is kept from escaping thanks to a deftly concealed zipper that controls the switch.
How to Care For The Duvet Cover
Another key point is that we advise machine washing similar colors separately in cold water. Do not bleach the duvet cover because it has superior fading resistance than regular fabric after going through a specific printing and dyeing procedure.
Basically, the High-quality, wrinkle-resistant queen duvet cover materials with a lovely natural texture, low temperature roller or shaded drying are preferred; ironing is not necessary! This white cotton duvet cover ought to be cleaned before use, as advised.
What's Includes
1 duvet cover (90″x 90″)
2 pillowcases (20″ x 26″)