Multi function Maternity Diaper Bag Backpack
$21.99
Dry & Wet Split Pocket
Waterproof compartment use for wet towel, frequently used bibs or diapers
Back Opened Pocket
Easy & safe access to your items at the bottom of the baby bag
Convenient Stroller Straps
Can be used as backpack, handbag or attached to your stroller
Description
Diaper bag backpacks are a popular way to transport your baby's supplies without having to carry everything in your hands. They come in a variety of shapes and sizes, and can be made from a variety of materials, including leather, cloth, and even mesh.
Large Capacity: The  diaper bag backpack has over 13 pockets, including 3 upgraded insulated pockets, 1 dry/wet pocket for wet towel/clothes/diapers, 1 easily access to tissue pocket.
This is a great maternity bag to go bag that can carry and organize all your important to go items for baby.
Durable Material Diaper Backpack: This is a lightweight diaper bag backpack (dimension, 10″L x 5.5"W x15.5″H ), made of durable polyester easy to clean free of chemical residue gentle on baby's skin and mum, and it comes with extra stroller hooks.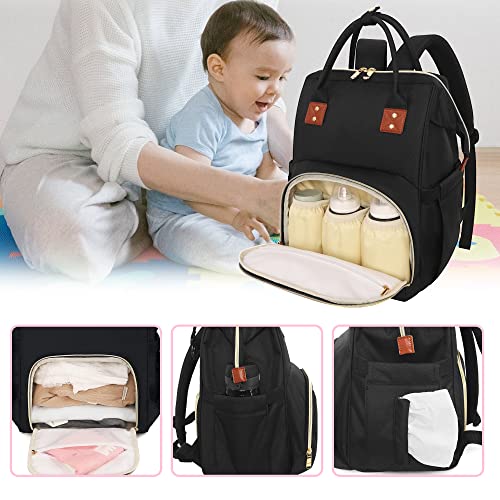 Suitable for Many Occasions : This multi functional baby bags can be used as a backpack and handbag. It can also be easily attached to your stroller. perfect for nursing mom shopping
Multifunctional Pocket: The front and back dry & wet split pockets can separated wet and dry clothes, insulated pockets can keep the baby bottles warm. The side pockets for store baby wipes, umbrella, drinking bottles and more.
100% Lifetime Warranty