Diaper Bag Backpack with Portable Changing Pad
$59.99
Features Multiple Pockets for Ultimate Organization!
1 x Main compartment includes 6 interior pockets to store your laptop, iPad, bottles, clothes, shoes, snacks, toys, towel, etc.
2 x Diaper organizers and a mesh pocket for baby essentials.
1 x Front mommy pocket to store parents' items.
3 x Insulated pockets for milk bottles and a mesh pocket for other stuff.
1 x Front pocket with key loop can better store your keys.
2 x Side pockets for tissues, wipes and water bottle or umbrella.
1 x Anti-theft pocket to protect your wallet and phone.
Description
Best Diaper Bag Backpack with Portable Changing Pad and  Pacifier Case with Stroller Straps.
To avoid your stroller from tipping over, please check with your retailer about the maximum weight the stroller handle can hold. Also, make sure your diaper bag is securely tucked away on the stroller to avoid straps becoming tangled.
This bag is convenient and handsfree, with a wide opening that allows you to quickly get what you want, and smooth zippers that allow easy access and closure even with one hand. The anti-theft back pocket safely stores your valuables, and the built-in stroller straps effortlessly hang your baby bag off of anything.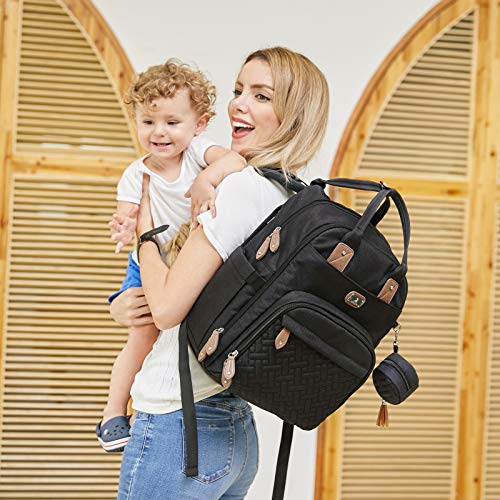 Pacifier Case & Portable Changing Pad: The removable pacifier pod can hold two pacifiers to keep them readily available and clean. The D-shaped ring allows you to quickly and easily install the pacifier holder or other essentials like Hand sanitizer, diaper bag dispenser, small accessories, etc. Also comes with a travel changing mat with diaper pocket & wipes pocket as well as a mom's pockets with a wrist strap for quick, on-the-go changes.
Durability to last: Our maternity backpack diaper bag is crafted from lightweight and waterproof polyester fabric. Includes spill-resistant and easy-to-clean lining. You don't need to fear spilled milk or water. Non-fraying stitching, easy-tote top handle, back ergonomic design and thick padded cushioned shoulder straps will release stress and bring comfort while carrying.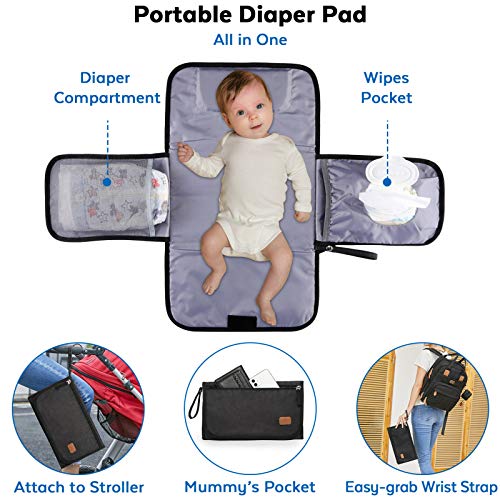 Not Just a Mommy Bag: Features gender neutral color scheme, Stylish and unisex design makes the baby bag a nice choice for both women and men. Dads are happy to be seen in public with it, while on daddy duty! This diaper nappy bag can also be used as a backpack, handbag, purse and more. It will even make a great piece of carry-on backpack beyond toddlerhood. Perfect for travel with your boys & girls! This is also an ideal newborn baby registry shower gift!