Shower System -12 Inches Bathroom Luxury Rain Mixer Shower Combo Set
$59.99
Package Include :
12" square fixed shower head (304 stainless steel)
Hand-held shower head with Sprayer (brass)
13.9" shower arm wand (304 stainless steel)
59" shower hose (stainless steel)
Shower holder (brass) and Shower Faucet Rough-in Valve Body (brass)
Description
12 Inches Bathroom Luxury Rain Mixer Shower Combo Set With Brushed Brass Handheld & Top Shower Faucet Set
Are you looking for a luxury rain mixer shower head that will give you the perfect shower experience, then you should consider purchasing a rain shower head from the brands such as RainMaster and Delta. These shower heads feature high-quality construction and features that will give you a magnificent shower experience.
One of the features that makes these shower heads so special is the rainfall feature. This feature allows the shower head to spray a steady stream of water down onto your head, which results in an incredibly relaxing shower experience. Additionally, the shower heads from RainMaster and Delta come with a variety of other features that will give you the perfect shower experience, such as a massage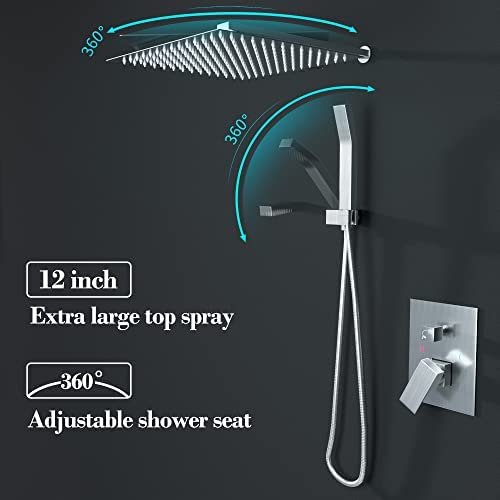 Two shower heads for your preference, the pursuit of comfortable bathing. The size of the shower mixer is suitable for the whole family. Allows you to enjoy the baptism of the rain and feel like a spa at home.
High Pressure Technology
High pressure technology offer consistent powerful rain shower and superior spray even under low water pressure.
Sleek Elegant and Modern Design
If you love sleek elegant and modern design in the bathroom and recognize the importance of high-quality products, then this is the right product for you.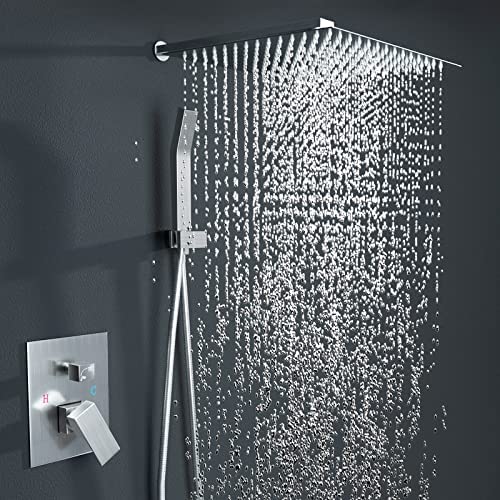 12 Inch Shower Mixer Head
The Large 12-inch raining sprinkler mixes water with air to increase the water pressure to 100%, and simulates the natural raining to provide you with natural contact of water experience. Both rain shower head and handheld shower can offer you a good experience of shower, flexible hose adjustment to achieve the perfect angle for your bath area.
Certified Pressure Balance Cartridge
The advanced pressure balance ceramic disc cartridge, brass valve body, can prevent scald injury caused by sudden changes in hot or cold water pressure. Air energy technology offer consistent powerful rain shower even under low water pressure. The shower valve can effectively prevent water-hammer, runs quieter without knocking noise
Excellent Performance
The elegant brushed finished and sleek look shower system complements any décor. In addition, our products are made of high quality materials,anti-rust and long-lasting durability, which brings you a comfortable shower experience that seems like under the natural raindrop. New house bathroom renovation can be used as gift to send friends and family.
Interface thread US NPT 1/2 connector, no adapter required. Designed for use with standard 1/2″ U.S. plumbing connections. Lifetime warranty, offer replacement within 5 years. Any question, feel free to message us online.